ASTM E110-14
Standard Test Method for Rockwell and Brinell Hardness of Metallic Materials by Portable Hardness Testers
Automatische name übersetzung:
Standard Test Method for Rockwell und Brinell-Härte metallischer Werkstoffe durch Tragbare Härteprüfgeräte

NORM herausgegeben am 1.7.2014
Informationen über die Norm:
Bezeichnung normen: ASTM E110-14
Ausgabedatum normen: 1.7.2014
SKU: NS-40436
Zahl der Seiten: 5
Gewicht ca.: 15 g (0.03 Pfund)
Land: Amerikanische technische Norm
Kategorie: Technische Normen ASTM

Kategorie - ähnliche Normen:
Die Annotation des Normtextes ASTM E110-14 :
This test method establishes the standard procedures, including the calibration, precision and bias of the apparatus used, for the determination of indentation hardness of metallic materials by means of portable hardness testers.


Keywords:
Brinell, hardness, portable, Rockwell, ICS Number Code 77.040.10 (Mechanical testing of metals)
Ergänzende Informationen
Significance and Use
3.1 Portable hardness testers are used for testing materials that because of their size, location or other requirements such as test point are unable to be tested using traditional fixed instruments.
3.2 Portable hardness testers, by their nature, induce variation that could influence the test results; therefore, hardness measurements made in accordance with this test method are not considered to meet the requirements of E10 or E18. The user should compare the results of the precision and bias studies in E110, E10 and E18 to understand the differences in results expected between portable and fixed instruments.
3.3 Two test parameters that can significantly influence the measurement accuracy when using portable hardness testers are the alignment of the indenter to the test surface and the timing of the test forces. The user is cautioned to do everything possible to keep the centerline of the indenter perpendicular to the test surface and to apply the test forces using the same time cycle as defined in Test Method E10 or Test Methods E18.
3.4 Portable hardness testers are delicate instruments that are subject to damage when they are moved from one test site to another. Therefore, repeating the daily verification process during the testing sequence is recommended to insure that they are working properly.
3.5 Hardness testing at a specific location on a part may not represent the physical characteristics of the whole part or end product.
1. Scope
1.1 This test method defines the requirements for portable instruments that are intended to be used to measure the Rockwell or Brinell hardness of metallic materials by performing indentation tests on the surface of materials in the field or outside of a test lab, or in cases where the size or weight of the test piece prevents it from being tested on a standard E10 or E18 hardness tester.
1.2 The principles used to measure the Rockwell or Brinell hardness are the same as those defined in the E18 standard test method for Rockwell or E10 standard test method for Brinell.
Note 1:
Standard test methods

E10

and

E18

will be referred to in this test method as the standard methods.
1.3 The portable hardness testers covered by this test method are verified only by the indirect verification method. Although the portable hardness testers are designed to employ the same test conditions as those defined in the standard test methods, the forces applied by the portable Rockwell and Brinell testers and the depth measuring systems of the portable Rockwell testers may not meet the tolerance requirements of the standard methods. Portable hardness testers shall use indenters that meet the requirements of the standard test methods.
1.4 This test method does not apply to portable hardness testers that measure hardness by a means or procedure that is different than those defined in E10 or E18 For example, this test method does not apply to the methods defined in ASTM standard Practice A833, Test Methods A956 and A1038 or B647.
1.5 A report section is included to define how to indicate that the test result was obtained by using a portable device that conforms to this document.
1.6 Annex A1 is included that defines the periodic indirect verification and daily verification requirements for these instruments.
1.7 This standard does not purport to address all of the safety concerns, if any, associated with its use. It is the responsibility of the user of this standard to establish appropriate safety and health practices and determine the applicability of regulatory limitations prior to use.
2. Referenced Documents
| | |
| --- | --- |
| | Practice for Conducting an Interlaboratory Study to Determine the Precision of a Test Method |
| | Test Method for Brinell Hardness of Metallic Materials |
| | Practice for Indentation Hardness of Metallic Materials by Comparison Hardness Testers |
| | Test Methods for Rockwell Hardness of Metallic Materials |
| | Test Method for Indentation Hardness of Aluminum Alloys by Means of a Webster Hardness Gage |
| | Test Method for Portable Hardness Testing by the Ultrasonic Contact Impedance Method |
| | Test Method for Leeb Hardness Testing of Steel Products |
| ISO/IEC 17011 | : Conformity assessment -- General requirements for accreditation bodies accrediting conformity assessment bodies |
| | Hardness Conversion Tables for Metals Relationship Among Brinell Hardness, Vickers Hardness, Rockwell Hardness, Superficial Hardness, Knoop Hardness, Scleroscope Hardness, and Leeb Hardness |
| ISO/IEC 17025 | : General requirements for the competence of testing calibration laboratories |
Ähnliche Normen: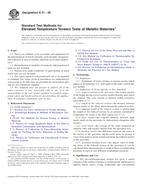 ASTM E21-09
Historisch
1.4.2009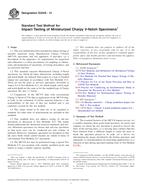 ASTM E2248-13
Historisch
1.4.2013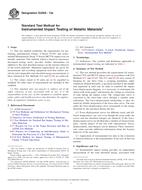 ASTM E2298-13a
Historisch
1.11.2013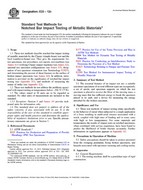 ASTM E23-12c
Historisch
15.11.2012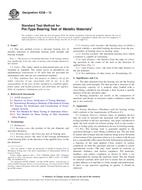 ASTM E238-12
Historisch
1.6.2012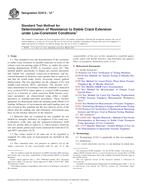 ASTM E2472-12e1
Historisch
1.7.2012
Empfehlungen:

Aktualisierung der technischen Normen
Wollen Sie sich sicher sein, dass Sie nur die gültigen technischen Normen verwenden?
Wir bieten Ihnen eine Lösung, die Ihnen eine Monatsübersicht über die Aktualität der von Ihnen angewandten Normen sicher stellt.

Brauchen Sie mehr Informationen? Sehen Sie sich diese Seite an.
Letzte Aktualisierung: 2021-09-21 (Zahl der Positionen: 2 526 736)
© Copyright 2021 NORMSERVIS s.r.o.