5.1 An acute toxicity test is conducted to obtain information concerning the acute effects of a short-term exposure of organisms to a test material under specific experimental conditions. An acute toxicity test does not provide information concerning whether delayed effects will occur.
5.2 Because embryos and larvae are usually assumed to be the most sensitive life stages of these echinoid species, and because some of these species are commercially and recreationally important, the results of these acute tests are often considered to be a good indication of the acceptability of pollutant concentrations to saltwater species in general. The results of these acute toxicity tests are often assumed to be an important consideration when assessing the hazard of materials to other saltwater organisms (see Guides E724 and E1023) or when deriving water quality criteria for saltwater organisms 5.3 The results of acute toxicity tests might be used to predict acute effects likely to occur to aquatic organisms in field situations as a result of exposure under comparable conditions, except that toxicity to benthic species might depend on sorption or settling of the test material onto the substrate.
5.4 The results of acute tests might be used to compare the acute sensitivities of different species and the acute toxicities of different test materials, and to determine the effects of various environmental factors on the results of such tests.
5.5 The results of acute toxicity tests might be useful for studying the biological availability of, and structure-activity relationships between, test materials.
5.6 The results of acute toxicity tests will depend on temperature, composition of the dilution water, condition of the test organisms, and other factors.
1.1 This guide covers procedures for obtaining laboratory data concerning the acute effects of a test material on embryos and the resulting larvae of echinoid embryos (sea urchins and sand dollars) during static 48- to 96-h exposures. These procedures have generally been used with U.S. East Coast (1.2 Other modifications of these procedures might be justified by special needs or circumstances. Although using procedures appropriate to a particular species or special needs and circumstances is more important than following prescribed procedures, the results of tests conducted by using unusual procedures are not likely to be comparable with those of many other tests. The comparison of results obtained by using modified and unmodified versions of these procedures might provide useful information concerning new concepts and procedures for conducting acute tests starting with embryos of echinoids.
1.3 These procedures are applicable to most chemicals, either individually or in formulations, commercial products, or known mixtures. With appropriate modifications, these procedures can be used to conduct acute tests on temperature, dissolved oxygen, and pH and on such materials as aqueous effluents (see also Guide E1192), leachates, oils, particulate matter, surface waters and sediments (Annex A1). Renewal tests might be preferable to static tests for materials that have a high oxygen demand, are highly volatile, are rapidly transformed biologically or chemically in aqueous solution, or are removed from test solutions in substantial quantities by the test chambers or organisms during the test.
1.4 Results of acute toxicity tests with echinoid embryos should usually be reported as the 50 % effect concentration (EC50) based on the total abnormally developed embryos and larvae. In some situations, it might only be necessary to determine whether a specific concentration is acutely toxic to embryos or whether the EC50 is above or below a specific concentration.
1.5 This guide is arranged as follows:



Section

Scope

1

Referenced Documents

2

Terminology

3

Summary of Guide

4

Significance and Use

5

Apparatus

6

 Facilities

6.1

 Construction Materials

6.2

 Test Chambers

6.3

 Cleaning

6.4

 Acceptability

6.5

Safety Precautions

7

Dilution Water

8

 Requirements

8.1

 Source

8.2

 Treatment

8.3

 Characterization

8.4

Test Material

9

 General

9.1

 Stock Solution

9.2

 Test Concentration(s)

9.3

Test Organisms

10

 Species

10.1

 Age

10.2

 Source of Embryos

10.3

 Handling

10.4

 Test Animal Source and Condition

10.5

 Spawning and Fertilization

10.6

 Quality

10.7

Procedure

11

 Experimental Design

11.1

 Dissolved Oxygen

11.2

 Temperature

11.3

 Beginning the Test

11.4

 Feeding

11.5

 Duration of Test

11.6

 Biological Data

11.7

 Control Performance

11.8

 Other Measurements

11.9

Analytical Methods

12

Acceptability of Test

13

Calculation of Results

14

Report

15

Keywords

16

Annex

 Sediment Tests

1.6 The values stated in SI units are to be regarded as the standard.

1.7 This standard does not purport to address all of the safety concerns, if any, associated with its use. It is the responsibility of the user of this standard to establish appropriate safety and health practices and determine the applicability of regulatory limitations. Specific precautionary statements are given in Section 7.

2. Referenced Documents

| | |
| --- | --- |
| | Terminology Relating to Biological Effects and Environmental Fate |
| | Guide for Assessing the Hazard of a Material to Aquatic Organisms and Their Uses |
| | Guide for Conducting Acute Toxicity Tests on Test Materials with Fishes, Macroinvertebrates, and Amphibians |
| | Guide for Conducting Static Acute Toxicity Tests Starting with Embryos of Four Species of Saltwater Bivalve Molluscs |
| | Practice for Use of the International System of Units (SI) (the Modernized Metric System) |
| | Test Method for Measuring the Toxicity of Sediment-Associated Contaminants with Freshwater Invertebrates |
| | Guide for Conducting Acute Toxicity Tests on Aqueous Ambient Samples and Effluents with Fishes, Macroinvertebrates, and Amphibians |
| | Test Method for Measuring the Toxicity of Sediment-Associated Contaminants with Estuarine and Marine Invertebrates |
| | Guide for Collection, Storage, Characterization, and Manipulation of Sediments for Toxicological Testing and for Selection of Samplers Used to Collect Benthic Invertebrates |
| | Guide for Designing Biological Tests with Sediments |
Ähnliche Normen: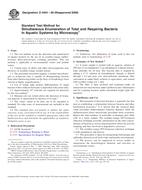 ASTM D4454-85(2009)..
Historisch
1.5.2009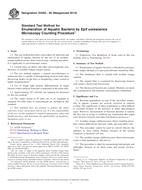 ASTM D4455-85(2014)..
Historisch
1.1.2014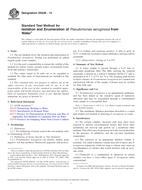 ASTM D5246-13
Historisch
1.5.2013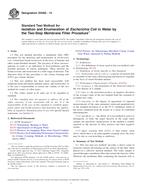 ASTM D5392-14
Historisch
15.8.2014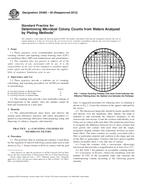 ASTM D5465-93(2012)..
Historisch
1.6.2012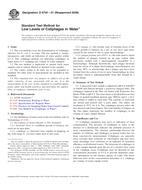 ASTM D6734-01(2009)..
Historisch
1.4.2009
Empfehlungen:

Aktualisierung der technischen Normen
Wollen Sie sich sicher sein, dass Sie nur die gültigen technischen Normen verwenden?
Wir bieten Ihnen eine Lösung, die Ihnen eine Monatsübersicht über die Aktualität der von Ihnen angewandten Normen sicher stellt.

Brauchen Sie mehr Informationen? Sehen Sie sich diese Seite an.
Letzte Aktualisierung: 2020-08-10 (Zahl der Positionen: 2 390 550)
© Copyright 2020 NORMSERVIS s.r.o.