ASTM E1593-13
Standard Guide for Assessing the Efficacy of Air Care Products in Reducing the Perception of Indoor Malodor
Automatische name übersetzung:
Standard-Handbuch für die Bewertung der Wirksamkeit von Air Care-Produkte bei der Reduzierung der Wahrnehmung von Innen Übler Geruch

NORM herausgegeben am 1.5.2013
Informationen über die Norm:
Bezeichnung normen: ASTM E1593-13
Ausgabedatum normen: 1.5.2013
SKU: NS-42296
Zahl der Seiten: 11
Gewicht ca.: 33 g (0.07 Pfund)
Land: Amerikanische technische Norm
Kategorie: Technische Normen ASTM

Kategorie - ähnliche Normen:
Die Annotation des Normtextes ASTM E1593-13 :
Keywords:
air care products, indoor air, malodor counteraction, sensory facilities, sensory test chamber construction, ICS Number Code 71.100.70 (Cosmetics. Toiletries)
Ergänzende Informationen
Significance and Use
5.1 The purpose of this guide is to assess the ability of air care products to reduce indoor air malodor intensity from a control state. Several experimental hypotheses are possible, depending on the objective of the test. Possible objectives with respective hypotheses are given in 5.2 Air care products are sold commercially with the intent of providing a means of improving the odor quality of a volume of air, relative to some existing environmental condition. This typically involves the application of an odorous substance into the air space by means of some mechanical or physical mechanisms (for example, air fresheners). When the existing environment includes some undesirable odor source or malodor, reduction of the perception of the malodor is usually accomplished with other odorous substances by masking. This procedure is also applicable to other mechanisms of odor reduction (for example, air filtration).
5.3 Selection of representative malodor sources is of critical importance. The malodor source must be readily available and of a consistent odor quality. A reasonable malodor source should be chemically and aesthetically correct. The experimenter and client must agree upon the appropriateness of a malodor source before further details of the test design are worked out. Experimental variation will be reduced by using uniform malodor sources. Information collected on malodor reduction will thus be more comparable from experiment to experiment and from laboratory to laboratory.
5.4 The procedure recommended can be used for assessment of the malodor efficacy of air care product (for example, air fresheners and air filtration).
5.5 These procedures can be used to assess efficacy against any standard malodor.
5.6 These procedures are applicable in the assessment of any products that reduce the perception of any malodor, regardless of the mode of action.
5.6.1 These procedures are applicable to aerosol/spray and continuous/solid air freshener products, including candles. It should be noted that while aerosol/spray and continuous/solid and candle product evaluations are fundamentally the same, different treatment or measurement techniques may be necessary because of inherent differences in the product delivery systems.
5.6.2 These procedures are applicable to other air care products, including absorption, chemical reaction, and particulate removal.
5.7 This guide is designed for use for product research guidance in product formulation and new product development, and for quality control issues.
1. Scope
1.1 This guide covers standard procedures for the quantitative sensory assessment of perceived olfactory intensity of indoor malodors for the purpose of assessing the deodorant efficacy of air care products. This guide is limited to static conditions only.
1.2 It is recognized that, though sometimes desirable, the use of actual "live" or formulated live malodors is often impractical due to the inherent variability of the malodor sources. A live malodor source may be used when practical. However, the use of a formulated odor source has several advantages, including consistency and availability.
1.3 The reader should be aware of good sensory practices when preparing the test environment or substrate, developing and training the panel.
1.4 The researcher is responsible for identifying the most appropriate test design and using the appropriate statistical tool to address the experimental design.
1.5 This guide is a compendium of information or series of options that does not recommend a specific course of action. This guide is not intended to support claims. If the research objective is claim related, then the researcher needs to refer to Guide E1958.
1.6 The values stated in inch-pound units are to be regarded as standard. The values given in parentheses are mathematical conversions to SI units that are provided for information only and are not considered standard.
1.7 This standard does not purport to address all of the safety concerns, if any, associated with its use. It is the responsibility of the user of this standard to establish appropriate safety and health practices and determine the applicability of regulatory limitations prior to use.

Terminology Relating to Sensory Evaluation of Materials and Products

Practices for Referencing Suprathreshold Odor Intensity

Guide for Sensory Claim Substantiation
Ähnliche Normen: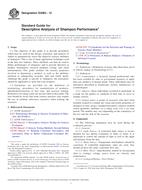 ASTM E2082-12
15.10.2012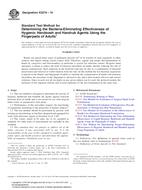 ASTM E2276-10
Historisch
1.4.2010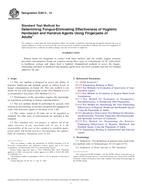 ASTM E2613-14
1.4.2014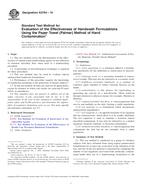 ASTM E2784-10
Historisch
1.10.2010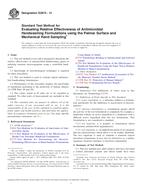 ASTM E2870-13
Historisch
1.4.2013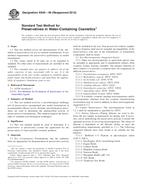 ASTM E640-06(2012)..
Historisch
1.4.2012
Empfehlungen:

Aktualisierung der technischen Normen
Wollen Sie sich sicher sein, dass Sie nur die gültigen technischen Normen verwenden?
Wir bieten Ihnen eine Lösung, die Ihnen eine Monatsübersicht über die Aktualität der von Ihnen angewandten Normen sicher stellt.

Brauchen Sie mehr Informationen? Sehen Sie sich diese Seite an.
Letzte Aktualisierung: 2020-08-10 (Zahl der Positionen: 2 390 550)
© Copyright 2020 NORMSERVIS s.r.o.