Die Norm "ASTM E2553-07(2013)"
ASTM E2553-07(2013)
Standard Guide for Implementation of a Voluntary Universal Healthcare Identification System
Automatische name übersetzung:
Standard-Handbuch für die Implementierung eines freiwilligen Universelle Health Identification System

NORM herausgegeben am 1.3.2013
Informationen über die Norm:
Bezeichnung normen: ASTM E2553-07(2013)
Ausgabedatum normen: 1.3.2013
SKU: NS-45587
Zahl der Seiten: 14
Gewicht ca.: 42 g (0.09 Pfund)
Land: Amerikanische technische Norm
Kategorie: Technische Normen ASTM

Kategorie - ähnliche Normen:
Die Annotation des Normtextes ASTM E2553-07(2013) :
Keywords:
ICS Number Code 35.240.80 (IT applications in health care technology)
Ergänzende Informationen
Significance and Use
5.1 This standard describes a proposal to provide unambiguous personal identification for any patient who requests it. In today's world of specialized healthcare and mobile patients it is typical for clinical information on a single patient to reside in a variety of locations, some using manual data storage techniques, but an increasing number using electronic means. In order for a clinician to provide safe and appropriate clinical care in this environment it is necessary to be able to aggregate appropriate clinical information on a specific patient in order to gain an accurate and comprehensive picture of that patient's clinical situation. This implies that all information relating to each patient should be identified in a unique manner to facilitate the process of accurately aggregating appropriate information.
5.2 The converse of the need for data aggregation is the patient's need to protect the privacy of their information. Unless patients are confident that they can avoid inappropriate sharing of clinical information they will not readily share that information with caregivers. Thus, the same system that supports unambiguous linkage of all information concerning a patient must also play a role in protecting the privacy of that information.
5.3 The proposed patient identification system must be able to avoid or overcome the numerous objections that have prevented implementation of a universal patient identification system in the past including issues related to:
5.3.1 Technology—The proposed system must be technically feasible in a manner that promotes scalability, availability, and ease of implementation.
5.3.2 Integration with Existing Systems—To the maximum extent possible the proposed identification system should work seamlessly with existing information systems.
5.3.3 Cost-effectiveness—The proposed system should balance the costs and benefits required to implement a fully functional voluntary universal healthcare identification system.
5.3.4 Political Feasibility—Because many different constituencies have a vested interest in a universal patient identification system, it has been a significant challenge to gain consensus on how to implement such a system.
5.3.5 Gradually Implementable—In order to minimize the impact associated with its implementation, a desirable property of a voluntary universal healthcare identification system is that it be gradually implementable over time.
5.3.6 Acceptable to the General Public—A voluntary universal healthcare identification system must be accepted by the general public as a beneficial, effective and non-threatening capability.
5.4 Experience has shown that a healthcare identification system will only be feasible if it is dedicated exclusively to the needs of healthcare. It is only in this focused environment that it has been possible to create a consistent, feasible, functional, and effective design for such a system.
1. Scope
1.1 This document describes the implementation principles needed to create a Voluntary Universal Healthcare Identification (VUHID) system. The purpose of this system is to enable unambiguous identification of individuals in order to facilitate the delivery of healthcare.
1.2 The VUHID system should be dedicated exclusively to the needs and functions of healthcare.
1.3 The VUHID system is designed to represent no, or at least minimal, increased risk to healthcare privacy and security.
1.4 The system should be as cost-effective as possible.
1.5 The system must be created and maintained in a way to provide sustained benefit to healthcare.
1.6 The system should be designed and implemented in a manner that ensures that it can operate indefinitely.
1.7 This standard does not purport to address all of the safety concerns, if any, associated with its use. It is the responsibility of the user of this standard to establish appropriate safety and health practices and determine the applicability of regulatory limitations prior to use.
2. Referenced Documents
| | |
| --- | --- |
| | Guide for Properties of a Universal Healthcare Identifier (UHID) |
Ähnliche Normen: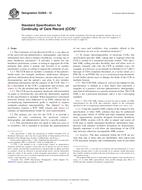 ASTM E2369-12
1.12.2012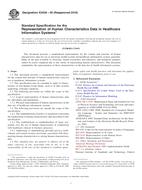 ASTM E2436-05(2010)..
Historisch
1.6.2010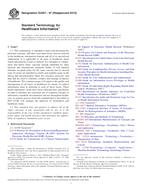 ASTM E2457-07(2013)..
1.3.2013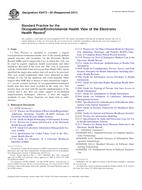 ASTM E2473-05(2011)..
Historisch
1.5.2011
ASTM E2538-06(2011)..
Historisch
1.5.2011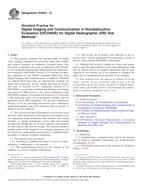 ASTM E2699-13
Historisch
15.12.2013
Empfehlungen:

Aktualisierung der technischen Normen
Wollen Sie sich sicher sein, dass Sie nur die gültigen technischen Normen verwenden?
Wir bieten Ihnen eine Lösung, die Ihnen eine Monatsübersicht über die Aktualität der von Ihnen angewandten Normen sicher stellt.

Brauchen Sie mehr Informationen? Sehen Sie sich diese Seite an.
Letzte Aktualisierung: 2021-01-18 (Zahl der Positionen: 2 419 067)
© Copyright 2021 NORMSERVIS s.r.o.